Ha Noi – Many businesses and investors are waiting for the Government's decision on the feed-in tariff (FiT) rate for solar power projects nationwide, which is expected to be released this month, to set up long-term investments in solar power projects in Viet Nam.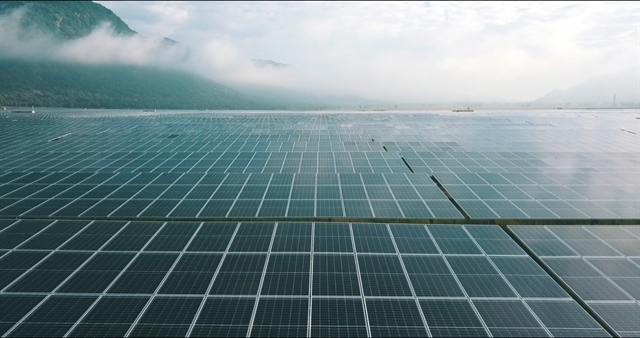 The current FiT of 9.35 US cents per kWh has applied for all kinds of solar technologies, including floating solar power projects, ground-mounted solar power projects. Also, rooftop solar power projects are under the FiT program between June 1, 2017, and June 30, 2019, in which the investors enjoy price incentives for 20 years.
In a draft decision by the Ministry of Industry and Trade (MoIT) recently submitted to Prime Minister Nguyễn Xuân Phúc for consideration, the FiT will change for different types of technology as of this year.
The ministry proposed to reduce the buying price to 7.69 cents per kWh for floating solar power projects and 7.09 cents for ground-mounted solar power projects. Meanwhile, the rate of 9.35 US cents will maintain for rooftop solar power projects.
Speaking with local media at the Energy Week 2019  in Hà Nội on Tuesday, Deputy Director of the MoIT's Renewable Energy Department Đỗ Đức Quân said: the FiT is applied for a certain number of years to encourage renewable energy development in each period.
He said if the Prime Minister approved the MoIT's new FiT program, it would remain effective until December 31, 2021.
The new FiT rate is crucial for Việt Nam's renewable energy industry. Challenging policymakers, Government ministries, and agencies to head towards long-term research and assessing investment volume; which must harmonize benefits for all participants, and ensure the industry's sustainable development.
To enjoy the Government's price incentives ended on June 30 this year, the country witnessed nearly 90 solar power plants put into operation with a total capacity of over 4,500MW in May and June. Far from exceeding the plan of only 850 MW of solar power in 2020 approved in the Power Development Master Plan VII (PDP VII), causing overloading on the national grid at certain distribution lines and at a certain period of day time.
According to Nguyễn Đức Cường, Director of the National Load Dispatch Centre (EVN NLDC), investors have been made aware of the overloading in a public and transparent manner.
"We want to generate all power from renewable energy because the price is high, but it is still cheaper than thermal power sources," Cường said.
We have put all efforts into ensuring solar plants are put into operation and add power to the national grid. However, these plants have to reduce capacity due to the grid overload, which is something we did not expect," Cường said.
Insiders say that the first thing that needs to be done immediately is to find solutions for power transmission projects. If the overloading lasts for too long, all participants, including investors and power purchasers, will be impacted. In the future, the MoIT, local governments, investors, and Vietnam Electricity must work together to solve this problem, especially in terms of site clearance to accelerate the progress of transmission projects, thereby freeing up the capacity of the plants and supplementing the country's electricity.
The MoIT has recently proposed the Government supplement the PDP VII, building power grid projects in the southern provinces of Bình Thuận and Ninh Thuận, which are the solar energy hubs of the country. Expects that more projects will receive investment later this year and early next year.
The overloading of the grid is only one of the vital challenges facing the Government and relevant ministries in building a sustainable renewable energy industry. According to Nguyễn Anh Tuấn, Director of the Renewable Energy Centre under the Institute of Energy, many things must solve to speed up the development of renewable energy as the country faces exhaustion of natural resources such as coal, oil, and gas.
He said Việt Nam has significant potential to develop renewable energy, including small hydro, wind power, solar power, biomass, biogas, municipal solid waste, and geothermal electricity. The assessment for investment must base on three pillars of theoretical, technological, and economic potential. The potential of solar power is high because its price is right for investors.
As for wind power, the potential for onshore wind power is relatively moderate because its buying price is low. At the same time, offshore wind potential has not yet been subject to scientific assessment and accurate figures because the cost of wind measurement is very high. Understanding the potential and accurate assessment is relatively insufficient, and the reliability is not high, leading to difficulties for the investors, Tuấn said.
Tuấn said the biggest and most crucial challenge for renewable energy is production cost, which is still higher (without subsidy) than the traditional technologies used by coal, oil, and gas industries. The evidence is in solar power.
We previously set development goals but did not have a great buying price mechanism, making it challenging to develop the sector. But since 2017, the Government issued the FiT at 9.35 cents per kWh, and we saw booming construction of solar power plants and selling power to the State, Tuấn said.
With other types of renewable technologies, if you have a reasonable electricity purchase policy that ensures economic feasibility for investors, you will also see an increase in development, Tuấn said. In terms of technology, he said the development of infrastructure would be necessary. Most advanced technologies currently imports, while the operation and supply service chains are not yet available.
The technologies are not only precious but also challenging for businesses to access capital sources. They can get investment capital from banks; however, it is difficult for banks to assess the value and evaluate risks in renewable energy projects, Tuấn said.
Under the Strategy of Renewable Energy Development to 2030, Việt Nam will engage all of its social resources for investment in renewable energy development, encouraging the development and use of renewable energy, and striving to raise the share of renewable energy in the national energy sector.
The strategy aims to reduce GHG emissions, as pledged under the Paris COP21 Agreement, by 5 percent by 2020 and, with international assistance and support, by 25 percent by 2030. It sets the target to increase the electricity output produced by renewable sources from approximately 58 billion kWh in 2015 to 101 billion kWh by 2020, and 186 billion kWh by 2030, as well as increasing the rate of households with solar energy equipment from 4.3 percent in 2015 to approximately 12 percent and 26 percent by 2020 and 2030, respectively.
Source: VNS